Stephen King cameos are more prevalent than you imagine. An undeniable master of horror, King has the stature to (rightly) appear in works adapted from his books. Plus, he's a household name and an instantly recognizable face that a split-second appearance is sure to illicit response.
On this list, we are listing down every Stephen King cameo ever – at least in movies or TV shows that are adapted from his own books.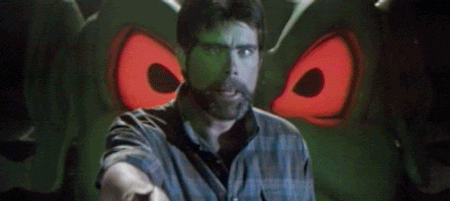 The full list of Stephen King cameo appearances
For this list, we confined our entries to movies and TV shows that were based on his own books. Meaning, King's screenplay-first works like "Golden Years", "Sleepwalkers", "Storm of the Century", "Red Rose" and "Kingdom Hospital", will be excluded.
---
Creepshow (1982)
This beloved horror anthology is a gift. For King fans like this writer, one of those gifts is King himself playing the dimwitted yokel at the heart of the featurette, "The Lonesome Death of Jordy Verrill". Based on his short story, "Weeds", the story kicks off with King's character making the mistake of touching a meteorite containing a deadly plant-like alien species.
---
Maximum Overdrive (1986)
Panned – though fondly – by critics and fans alike as a failed directorial effort by King, "Maximum Overdrive" is a big footnote in the history of King movies. Just as memorable: his cameo as an amusing man getting a hilarious verbal scuffle with an ATM. Based on his story, "Trucks".
---
Creepshow 2 (1987)
King makes his second appearance in the "Creepshow" franchise in this fresh round of horror featurettes, this time playing a trucker who spots a body lying in the middle of the road. Titled "The Hitchhiker", the story kicks off after the hit-and-run which ensues King's classic conscience-gnawing trip he likes to put his characters through.
---
Pet Sematary (1989)
This Mary Lambert-directed classic is one of the better films on this list. And King's cameo has a metatextual dark humor to it. King, who wrote the novel where the film is based on, plays a priest in Gage Creed's funeral. The irony is that it was King who wrote Gage's death on-paper – the first time in his novel, the next in his screenplay.
---
The Stand (1994)
Beloved both by fans and critics, this 1994 miniseries remains the go-to recommendations for many Stephen King fans. It's timely too, what with the COVID-19 hoopla we're all going through. In it, King played the minor role of a guy named Teddy Weizak.
---
The Langoliers (1995)
Based on the same-name novella from King's beloved collection, "Four Past Midnight", this miniseries sees the master of horror being the waking nightmare of a restless broker. He plays a wacko suit-and-tie guy who reveals to a broker named Craig he's just lost forty-three million dollars of investment in one quick sweep. Scary.
---
Thinner (1996)
One of the weaker entries on this list, "Thinner" follows an overweight lawyer who mysteriously loses weight. That's a shame because the source material is just fine (and had, at least, potential), written under King's pen name, Richard Bachman. In the movie, King plays a pharmacist.
---
Stephen King's The Shining (1997)
Stephen King's ardent disapproval of Stanley Kubrick's 1980 adaptation is heavily documented. In the late 90's, King finally got to make a version that's true to his vision, with help from director Mick Garris. Although the result isn't anywhere near the terror induced by Kubrick's film, this one's a fun one with the author's stamp of approval. Plus, it has a Stephen King cameo as a ghost bandleader. It's a win, all things considered. Take it.
---
Under the Dome (2015)
"Under the Dome" showed such promise in its first season. The two subsequent seasons were such a drop in quality and storytelling, it managed to take the things it did right and throw it out the window. King appeared very briefly as a dine-in customer.
---
Mr. Mercedes (2017)
"Mr. Mercedes" of the best Stephen King adaptations, which is why it's such a shame so few people are actually watching it. The cat-and-mouse thriller following a retired detective and an insidious hacker has been great over its three-season run at AT&T's Audience network. The future of the series is on hold for now due to poor ratings, so get on it quick! King makes a bloody appearance inside a diner.
---
It: Chapter Two (2019)
The long-awaited sequel to the widely successful 2017 modern revamp, "It", this movie had a ton to live up to. King appears to like it enough to appear in a lengthy cameo role as a whipsmart shop owner from which Bill Denborough (James McAvoy) has to buy his childhood bike. He comments on Bill's inability to close his story well – a metatextual remark that refers to a collective critique about King stories and novels.
---